Deliverability Guarantee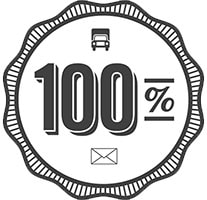 There are over 75,000 databases available to you through AccurateLeads and every list has different compilation characteristics. As with any list you purchase, you will receive undeliverable addresses, out-of-date contact names, and disconnected phone numbers. Unlike most other data providers, we want to make it right with you. If our list does not exceed industry standards for accuracy we will replace the defective data 100%. For more details call one of our experts.
Guarantee Details:
1. Returned mail pieces must be postmarked within 45 days of the date of purchase to qualify for the guarantee. Should you feel that you are having a deliverability issue,contact your sales rep immediately.
2. We have the right to verify the data that was purchased.
3. Return percentage based on the total number of records purchased.
4. Only one refund will be made per purchase.
5. Lists purchased for fax and email are not covered.
6. Refund payments will not be made in excess of the original list purchase.
7. Mail pieces that are refused by the addressee but contain an accurate address are not covered.
8. Only AccurateLeads.Com standard business, consumer and occupant list are covered by this guarantee. For specialty databases check with your sales rep the guarantee per that specific database.
9. 100% Data Guarantee is offered for a limited time only and can be ended, or modified, without further notice.
10. Please note that all parties agree that all aspects of this transaction are taking place in Gwinnett County, Georgia court.