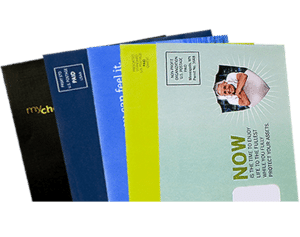 Direct mail marketing has made a comeback in recent years as more companies have become frustrated with the results their email marketing garners. For example, the Direct Marketing Association did a study in June of 2012 that showed response rates were actually much higher (3.4% compared to 0.12%) for direct mail than email (MarketingCharts). This was despite the two having relatively similar costs. So, if your company's marketing needs a shot in the arm, putting it in a mailbox might be your best bet. But be sure to follow the guide below when crafting your letter. Mailing just anything isn't good enough.
Use Every Part of the Letter
Use every part of your letter to catch your prospective customer's attention (MarketingCharts). This includes the envelope. One advantage traditional mail has over email is there is more opportunity to use aesthetics to separate your business from the pack. So make sure your envelope gives the recipient a reason to open it. Once open, make sure the letter entices the recipient into becoming a reader.
Grab Your Recipient's Attention Immediately
Converting the opener into a reader can be done many ways. Some of the best are by selecting colored paper to print your message on or choosing attention-grabbing graphics. Postcards are a great way to guarantee your recipient sticks around to read the message. However, it's important that the medium you choose to deliver your message on is in line with your company's image. Brightly colored paper or humorous copy would probably not mesh well for a hedge fund, for example.
Personalize Your Copy
Personalize your direct mail letter, so it speaks directly to the recipient. You do part of this by making sure the letter you're sending is appropriate for the demographic its recipient is in. However, you should also do this in a literal sense. Include your prospective customer's name in the letter to increase their sense of familiarity with your company (MarketingCharts).
The Importance of a Specific Call to Action
Include a quality call to action. You never get anything you don't ask for. This is still true if you get a response from your prospective client, but it wasn't the one you wanted. Be sure the goal of your letter is clear (but polite). Keep in mind, the call to action doesn't have to be asking for their business. It could simply mean asking them to visit your website (Brayfield and Fey, 2012).
With 75% of consumers reporting they receive more email than they can read, direct mail marketing is probably here to stay for a while (Will, 2012). But it's important not to take its acceptance for granted. Spend the time, energy and money on crafting the best direct mail marketing letter you can or your company would be better off sticking to email. Make sure you choose everything from the envelope to the letter with the goal of keeping the reader's attention. Maintain their attention and increase a sense of familiarity by customizing the copy to them as well. Lastly, no call to action means your recipient isn't going to feel the need to take any, so be specific with your letter's goal.