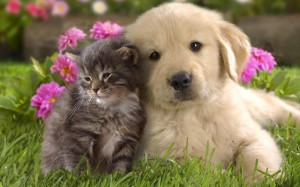 If your company markets a product to pet owners, you have every reason to be optimistic about your prospects. Between the years of 2002 and 2006, the American Pet Products Manufacturers Association found that pet ownership went up nearly 8%, from 64 to 69 million people. Consider, too, that the majority own dogs and cats, and that 80% and 63%, respectively, buy their pet's birthday gifts, as well as presents for other special occasions. However, to make the most out of this viable demographic, you need the right tools.
Narrow Your List
American spent close to $56 billion on their pets in 2013. This growing industry is a gold mine for those marketing pet products and services. Cats and dogs, of course, have enough differences between them that they shouldn't be grouped together for most pet products. Therefore, be sure you're not sending out information to everyone on a pet owners mailing list if your product or service is only for one specific animal. It should go without saying that this is impractical and will waste a large amount of time and money.
Narrow It Some More
Some offers may appeal to any pet owner, however you can pinpoint the ideal prospect by cross-referencing the list. For example, if you're marketing organic products for dogs, it would make sense to target dog owners that also buy other organic products. Or a high end litter box for cats would more likely appeal to an affluent cat owner. A targeted list will be more cost effective and time saving.
Pets are Generally Family
While they might not be allowed at the table or have their own room in the house, most pet owners consider their animals to be members of the family. So be sure your mailings are respectful of this.  Appeal to owners general sentiment towards their pets and tap into the emotions evoked in caring for them.
A Treat Helps Get Your Foot in the Door
One of the oldest tricks in the direct mailing playbook is to include something tangible inside the envelopes. Doing so automatically gets the attention of whomever it's delivered to. No matter what the outside of the envelope says, they're bound to open it up to see what's inside.  Given that you're sending mail to pet owners and taking into consideration the above section about their familial affection for them, including a treat is not only a great way to ensure that they open your envelope; it's a surefire way to land in their good graces.
Companies that make products for pets do not lack for an audience.  After having a great product, the next most important factor for success is getting it in front of the market.