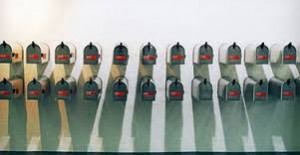 For too many people, the idea of using direct mail for marketing purposes seems outdated, old-fashioned, and antiquated.  In our current day, most people think of email, website ads, and  SEO when it comes to getting their product or service out in front of their audience.  While these are all profitable and should also be utilized, physical mail is a breath of fresh air and that's an understatement.  Keep reading to discover why mailing lists are still a fantastic way to grow your customer base and why 2014 is the year to start utilizing them.
Stay Under the Radar
With the advent of social media, everyone knows what everyone else is doing, especially when it comes to business. Companies are constantly looking for new ad campaigns that they hope will go viral and excite customers. The problem is, more often than not, all they do is tip their hand to the competition, who can then react and respond.
Direct mail is largely immune to this kind of problem. When targeting customers, you're most likely not sending your marketing material to competitors. In order for them to see it, then, they would need a customer to forward it on. Even in that event, their ability to respond effectively is severely handicapped.
Let your competition flaunt their marketing game plan in 2014. Keep yours between you and your customers.
Measurable Results
There is this assumption in the digital community that multivariate tests which are not tracked in Google Analytics or some other platform cannot be measured.  This is simply untrue.
Marketing through physical mail is incredibly easy to measure, run A/B tests, and optimize.  You know exactly who your target audience is and all of their demographic information.  Many elements which may not be available through a website visit and for those who are digitally driven have your audience hit a landing page for tracking purposes.  There are a number of ways to track offline efforts online.
Easily Customizable
Thanks to modern technology, you can address everyone on mailing lists personally with your marketing. Furthermore, you can customize certain messages by region, neighborhood, or even the individual themselves.
While some online versions of this exist, for the most part, Internet marketing works by casting a wide net. Everyone sees the exact same message, meaning the majority of your potential demographic could be left out.
You can also appeal to senses such as smell (most strongly tied to memory) and touch.  I think we know Google Nose was a solid joke.
Predictable Interaction
Mailing customers directly is a method that's part of a predictable routine. The amount of time from when you send out your campaign to the time when your customers see it is highly predictable. There is a wealth of information available that helps you estimate how long a customer will react to that campaign, on average. This makes it much easier for your company to anticipate when it will receive responses for their efforts, so that you can respond efficiently.
Although there are plenty of marketing options available to you in 2014, don't discount doing so directly through mail. The method has a number of benefits that exceed any offered by alternative choices.