Advertising a product or service has become a challenge for many marketers. Getting the attention of prospects with so many choices makes it difficult to determine which marketing channel is the best to capture an audience. Technology has made marketing easier, yet at the same time the constant distraction is overwhelming. For this reason, direct mail is making its way back into the hands of customers.
Trustworthy
Businesses should not ignore the fact that email marketing is not as trustworthy as the "old-fashion" snail mail is. There is no threat of viruses or spam when opening a piece of mail. In fact, 57% of people will not open an email from an unknown sender. Furthermore, an Epsilon study showed 73% of Americans get a large amount of emails they simply do not open. In other words the "new" junk mail that floods inboxes every day for the most part is DOA. On the other hand, according to data from the Direct Mail Associations, 65% of consumers open and have bought something from a direct mail piece and 56% think print marketing is the most trustworthy.
Money and Time
Email is attractive to many due to the cost and quickness of delivery. Email campaigns may be more cost effective and fast, but direct mail has a higher response rate. A report from CMO Council shows response rates for targeted directed mail is 4.4%, compared to email's rate of 0.12%. The instant delivery of email may seem appealing but is the immediate deleting? Moreover, direct mail's delivery rate is at 98% compared to emails at 50%. The upfront cost of direct mail may scare some marketers, however it is the end results that will put money back in their pocket.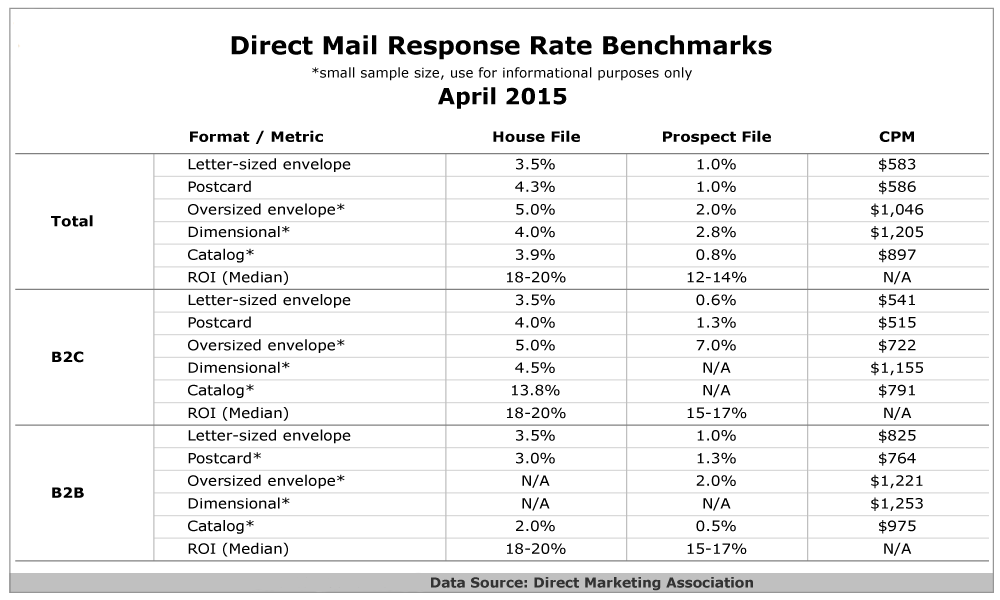 Lack of Competition
Getting a piece of mail is refreshing in the deluged world of email and social media. Direct mail stands out in the crowd so it makes the offer more noticeable. One trip a day to the mailbox is not as irritating as sorting through 100 emails daily. Moreover, with email you are only reaching out to approximately 50% of potential customers. Email is a great way to keep in touch with existing customers, just not for prospecting.
Quality of List
Direct mail has been around for decades. List compilers have been gathering data for years which makes the list more reputable. A mailing list has many additional selects which helps pinpoint a more targeted audience. In addition, a mailing list can be cleaned against the National Change of Address to update moves or vacant address which will help save in postage. Getting a quality email list is much harder to obtain. Besides, many do not opt-in for third party offers. Even those that do opt-in do not always know what they have opted-in for and will see an offer from an unknown business and mark it as spam. Also, Companies that choose to do an email campaign are missing a lot of potential prospects.
Preference
People still like to get mail. A 2013 Epsilon study reported 73% prefer direct mail because they can read it at their convenience. More importantly, 40% have stated they have tried a new business after receiving a piece of mail. Also, there are more ways to capture an audience with postal mail. A colorful postcard, a package with a free product, a scratch off with discounts will get a reader's attention. With marketing constantly changing and evolving for a business to thrive they must connect to the customer. Sometimes putting your message right into the hands of people the old fashion way gives a deeper emotional response.
Personalization
Placing a personalized message in the hands of prospects has an emotional effect that can't be felt through email. With an electronic ad you have a quick moment to grab the attention of customers whereas a piece of postal mail is actually reviewed longer and sticks in the mind. For example, Direct TV sends an offer promoting their services in what appears to be a greeting card. This eye catching mail piece probably gets opened by most recipients because of the emotional impact and curiosity of who was sending this personalized mail.
Communication Matters
The key to successful marketing is found in getting your message across to customers in an effective way. The method of communication used when soliciting is an important part of the outcome. Email should be used to send your existing customers offers and updates to retain the relationship and keep a loyal following. Direct mail is better when corresponding with prospects that don't know who you are.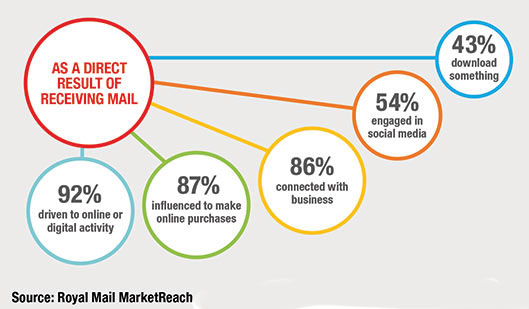 Find a Balance
At the very least a business that wants to get their name in front of others should send a postcard letting recipients know they will soon be getting an email from them. Include a website that can be viewed so if the business or consumer is interested they will actually open the email when it is sent. Making direct mail as part of the marketing mix will improve response rates from 10 to 30 percent according to a report by Epsilon. Yes email is cheaper and faster, but done alone the results will disappoint.
Bottom Line
Many marketers have deserted direct mail campaigns. The fact is direct mail now has a major advantage over digital advertising due to less competition. Mail is still read and there is a big audience that will respond to an offer that gets their attention. More importantly, if Google does direct mail it must work.